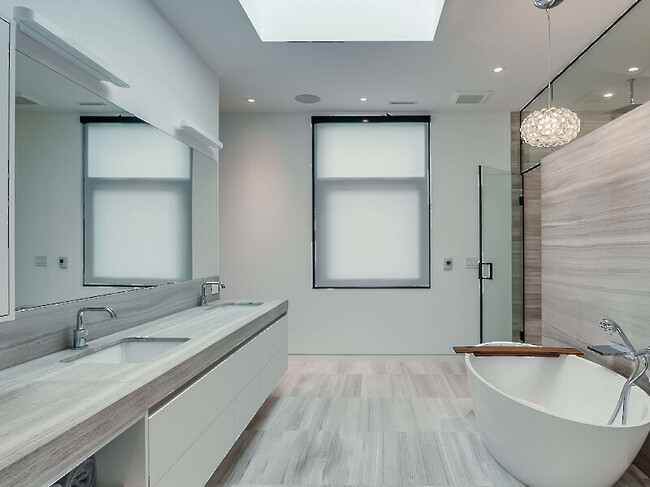 High-quality and durable cabinets are not only for custom kitchens. Cabinetry is also an important element of bathrooms. They can come in different styles, designs, colours and materials, but the one type of cabinetry growing in popularity lately, is the floating vanity. It is essentially a bathroom cabinet that is anchored to the wall rather than extending all the way to the floor, like most standard vanities do.
Whether you are remodeling or designing your new home, here are some reasons why you should consider a floating vanity.
Easy to integrate to your design
Floating vanities can be seen in many contemporary bathrooms due to their clean lines and sleek look. However, these cabinets can also go well with traditional or eccentric designs. Regardless of your preferred style, a floating cabinet is easy to integrate and can help bring the interior design of your bathroom to the next level.
Suitable for any bathroom size
Floating cabinets are especially great for small vanity and powder rooms as they don't take up as much floor space, compared to the traditional styles. However, they can also be placed in large master bathrooms and even have the option of a double sink. Make sure to consult professional custom designers such as NIMA Kitchens to see what option works best for your home.
For households with children, seniors or accessibility needs
Because the unit is hung on the wall, you can install the vanity at the exact height you need it to be. For a children's bathroom you can install the unit at a lower height and have step stools available to use. This is also a great option if you have seniors in your home or need to create an accessibility friendly bathroom.
Flexible Storage Solutions
Whether you need more or less storage, you won't need to sacrifice organization and functionality at the cost of aesthetics. Floating vanities can have open shelving, drawers and cabinets that can all be customized to suit your needs. Everything from handles, drawers, and organizational inserts, NIMA Kitchens can help you design your bathroom to your liking to ensure you have ample storage space.
NIMA Kitchens has been in the industry for 40 years providing services for custom kitchens, vanities and laundry rooms. For the best quality cabinetry and custom storage solutions for your vanity needs, Contact NIMA Kitchens today!