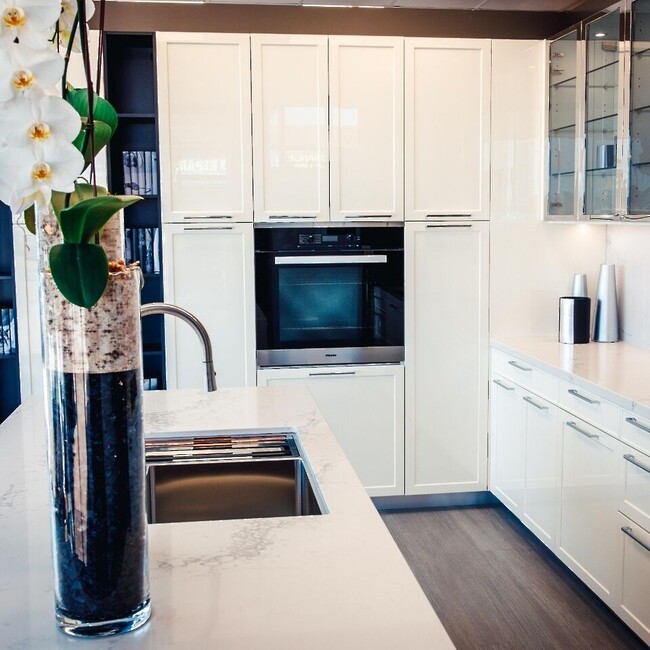 Recently, we shared some ideas on how to use black effectively in your custom kitchen. Today, we will be flipping the script and highlighting some ideas on how to achieve a perfect white custom kitchen.
White kitchens have been a trend for a long time. Indeed, it is one of a few timeless trends that continue to be sought after today, providing homeowners with more unique ways to use white in their kitchens and design a space that is truly their own.
Here are some ideas for designing a white custom kitchen:
1. Minimalistic and Modern
White can complement just about any design style, but one of the most popular styles that frequently use large amounts of white is the minimalist style. Minimalism is also often associated with modernism, so the aesthetic ends up looking both Zen and futuristic. For this design idea, you will need to make sure to keep things as simple and minimal as possible: no fancy motifs, intricate patterns or opulent materials. Stick to harmonious lines and geometric shapes, hardware with a twist and hidden lights. A potential downside of this style is that your custom kitchen may end up looking a little stark, so we advise adding some life to it by including plants and other naturalistic elements such as wood.
2. Luxury Galore
Because of how understated it is, white can end up being quite an elegant and luxurious colour that can be easily paired with gold features and sumptuous materials such as marble. If you like living large and flaunting your penchant for glamour, consider incorporating gold hardware and marble backsplashes, countertops or islands into your white kitchen. The style of the custom kitchen's lighting will also be key here, with the simplicity of the white colour theme allowing you breathing room to be a little more flamboyant and creative with your lighting choices.
3. Rustic Rejuvenation
You can add your own creative spin to the farmhouse, cabin or country-style kitchen by using white as your main colour theme. Typically, these design styles let the natural wood tones of their kitchen grab all the attention, but using white paint paired with the right kind of finish can give your rustic kitchen an edge. Bleached wood or wood that has been painted white also has more of a coastal feel, giving your custom kitchen that coveted beach house vibe.
4. Colonial Nostalgia
This is arguably one of the most popular ways that white is used in custom kitchens, even up to this day. There is something about the colonial aesthetic that just jives so perfectly with white. If you yearn for a more traditional style, this design would suit you best. Pair your kitchen up with wooden crockery, cutlery and cookware to give it that extra bit of charm and don't be afraid to adorn your kitchen with flowers. Floral motifs work particularly well with colonial designs.
Even with all these great ideas to work off of, you might still be on the fence regarding the colour theme you prefer. After all, despite being total opposites, black and white actually have a lot of similarities. They are both on extreme ends of the spectrum, are highly versatile and work best in monochromatic colour themes. So why not go for both? Next week, we will be discussing some design ideas for black and white custom kitchen designs. Stay tuned to learn more!