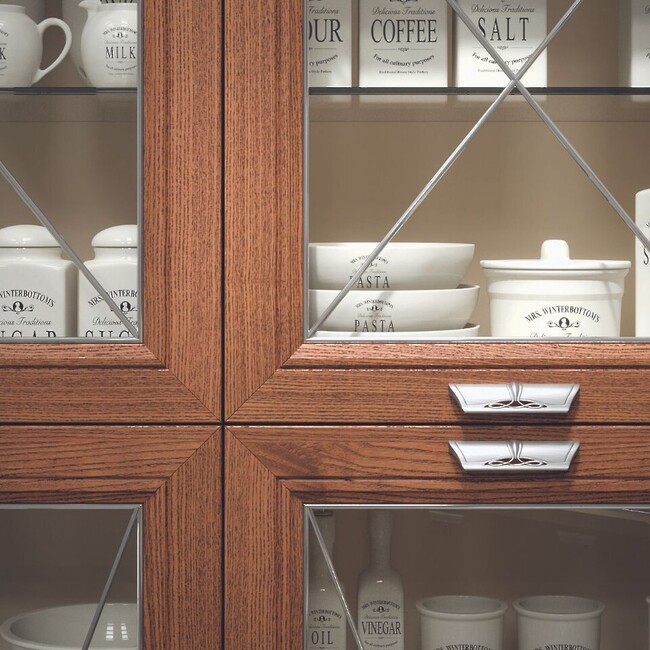 Simple yet elegant in design, shaker-style cabinets never go out of style. Their versatile design makes them valuable in both traditional and modern kitchen spaces. The starring feature of these cabinets is the shaker-style cabinet doors, characterized by a flat center panel with square edges. There are many variations to these doors, which are explored in a previous blog. Apart from the doors, cabinet hardware also plays an important role in bringing out the right aesthetic and finish. So in this blog, we will lay out 7 styles of hardware for an attractive finish.
Best Hardware For Shaker-Style Doors
Nickel And Steel Knobs To Inspire Retro Flair
A white shaker-style cabinet door is a classic in most traditional kitchens. Complete the look with a brushed nickel or stainless steel knob for these cabinets. They are also a great match with marble or stainless steel countertops.
Glass Or Ceramic Knobs For A Victorian Touch
If you have a kitchen with hardwood flooring, going for a stained shaker-style cabinet is an obvious choice. Pair these with a vintage glass or ceramic knob to give your space a Victorian touch. A white glass knob creates an excellent contrast with the warm colours of the cabinet and flooring.
Highlight The Understated With Brass Or Bronze Pulls
Bring out the subtle charm of your kitchen with brass or oil-rubbed bronze pulls for the cabinet doors. Choosing one with exposed screws adds a certain vintage flair to it. You can pair them with commercial appliances, stainless steel countertops and industrial lighting.
Marry Tradition With Modernity Using Tubular Bar Pulls
You can highlight the traditional features of your kitchen by adding modern elements to it. Going for tubular pulls is the best way to do it subtly. Choose nickel or stainless steel tubular bar pulls for shaker-style cabinet doors. Go for oversized ones for a dramatic flair or keep them compact if you are going for a classical look.
Can't Go Wrong With Flat Bar Pulls
When it comes to timeless hardware, flat bar pulls are the most prominent. Classy yet utilitarian, complement your shaker-style cabinets with flat bar pulls for a modern touch. Polished nickel or matte black pulls perfectly match pastel-hued cabinets or bolder colours.
Decorative Pulls For A Rustic Appeal
Take a rustic route with your traditional kitchen with crown mouldings and bronze faucets. Cement this look by installing traditional pulls with decorative detail. Since shaker-style cabinets are rather nondescript, a more detailed pull will act as a focal point and add character to your kitchen.
Don't Hesitate To Mix Things Up
While matching all kitchen hardware is ideal, it is by no means necessary. Certain pieces of hardware work well with one part of the kitchen but look lackluster in another. So don't be afraid to mix and match your hardware. For instance, polished nickel bar pulls perfectly complement an ivory shaker-style cabinet, but not a stained island cabinet. So don't hesitate to experiment.
For more tips on decorating your traditional or contemporary kitchen with shaker-style cabinets, reach out to us at Nima Kitchens. A premiere kitchen and bath manufacturer based out of Toronto, our custom kitchens are exceptional in design and execution. For more details, contact our experts today!